In the next month, viewers online and in California can view the PBS By the People broadcast of the first ever statewide Deliberative Poll on California governance reform, conducted in Torrance, CA on June 24-26, 2011.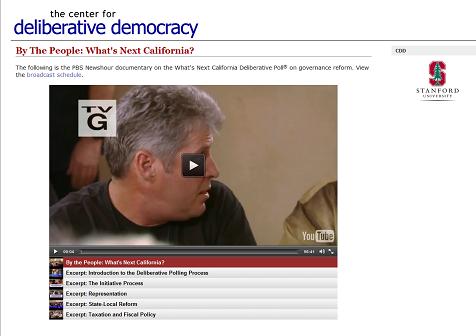 Moderated by Judy Woodruff, the special reports the outcomes of the deliberations on four topics:
Reforming the legislature
Reforming state/local relations
In each case, there were initiative proposals that were strongly endorsed by the deliberating microcosm. Some of these are likely to make it to the ballot next year.
The California PBS broadcast schedule is below.
To learn more about the results, visit the website of the
Center for Deliberative Democracy at Stanford University
.
KQED San Francisco
Broadcast
Thursday, October 13 at 11:00 p.m.
Friday, October 15 at 5:00 a.m.
Sunday, October 16 at 2:00 p.m.


Digital
Friday, October 14 at 10:00 p.m (KQED LIFE)
Saturday, October 15 at 4:00 a.m (KQED LIFE)
Sunday, October 16 at 9:00 p.m. (KQED WORLD)
Monday, October 17 at 3:00 a.m. (KQED WORLD)
Wednesday, October 26 at 8:00 a.m. (KQED WORLD)
Wednesday, October 26 at 11:00 a.m. (KQED WORLD)
Sunday, October 30 at 6:00 p.m.  (KQED PLUS - former KTEH San Jose)


Monday, October 31 at 9:00 p.m. (KVIEHD)
Tuesday, November 1 at 3:00 p.m. (KVIEHD)      
Saturday, November 5 at 10:00 p.m. (KVIE2)